Consultation
On this page you will find out about current consultations at Cambridgeshire Fire and Rescue Service.
Improving our response in rural areas - Briefing page 
Terminology check
Wholetime firefighters – these are our full-time firefighters who work at fire stations in our larger cities and towns. These fire stations are staffed 24/7 or on a day-crewed status.
Day-crewed – these stations have a full-time crew in the day (8am – 6pm either Monday - Friday or 7-days a week) and at all other times they revert to on-call status.
On-call fire stations - these stations mainly cover our rural towns and villages although some of our urban fire stations have a second fire engine that is crewed on an on-call status.
On-call firefighters – crew our on-call station fire engines. They are not based at the fire station but carry a pager with them and if an emergency call comes in for that area, their pager goes off and they drop everything and get to the fire station to respond to the incident in the fire engine.
Control – where our control operators take emergency 999 calls and dispatch fire engines and other resources. Our Control is shared with Suffolk Fire and Rescue Service, so control operators take 999 calls for both counties.


Current situation
At the moment, when you dial 999 needing the fire service, we aim to send that fire engine with five firefighters on it, but we do allow a crew to be sent with four firefighters if that is all they have available. This is the same for all fire engines – at both our wholetime fire stations and our on-call fire stations. A minimum crew of four firefighters is based on safe practices needed for some of our activities such as entering a building on fire.
We will occasionally allow a crew of three firefighters to attend an incident but only for our on-call fire stations and only for bin fires and small animal rescues.
The issue
At our on-call fire stations, which are located in rural parts of the county, we struggle to have even four firefighters available to crew our fire engines, particularly in the day-time. This is despite continuous effort to promote the role and run recruitment campaigns. This is a national trend, not just an issue in Cambridgeshire, but it means that, for some of our rural areas, if an emergency call comes in, it is likely that the fire engine from a different fire station will attend, rather than the local/nearest fire engine.
On a significant number of occasions (875 over the last 11 years), there were three firefighters available locally that could have attended but were not sent as our minimum requirement for all but two incident types is four firefighters. At the moment, we only send a crew of three to bin fires and small animal rescues.
The change we would like your thoughts on
We are always looking at ways for how we can improve our response times, particularly in rural areas given the challenges we face with recruiting and retaining on-call firefighters.
We believe one way to do this is to broaden when we allow a fire engine to attend an incident with a crew of three. Although we will always strive to send a crew with a minimum of five firefighters on it, for our on-call fire station areas where this is not always possible, we feel that utilising the three firefighters we often have available locally will offer a quicker response to those that need our help.
A crew of three firefighters can resolve many different types of incidents and for the rarer occasions where someone is trapped in a building that is on fire and our safe practices will only allow them in with a crew of four, they can get the water supply connected, get the equipment out and start tackling the fire from the outside until the back up crew arrives. At which point they will be ready to go straight in, so still saving time compared to if they didn't attend.
Our intention with this is to improve our response times in rural areas. Ultimately, get trained firefighters to an emergency as quickly and safely as possible.
We will not be introducing this change at our wholetime fire stations as we ensure they always have a crew of 4-6 firefighters at any one time. 
A working example
This diagram helps to explain it using Sawtry as an example. You can see three on-call firefighters at home/work, a few minutes away from the fire station, available to crew the fire engine if needed.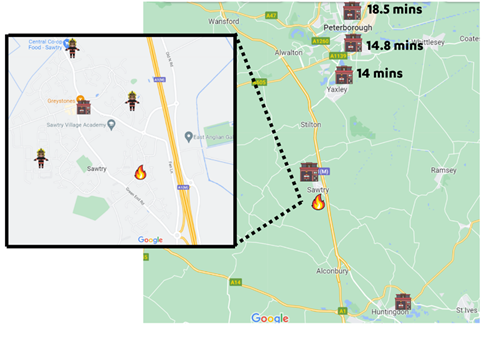 The flames represent the location of an emergency call. Under our current crewing policy, the three firefighters would not be called, even though they are very close by and fully trained. This is because there are only three of them and our current policy is to send a minimum of four firefighters.
So the local fire engine at Sawtry is classified as 'off the run' and not available due to a crewing shortage. Therefore, our Control would send the next nearest fire engine. Depending on the time of day and circumstances, this is likely to be either Yaxley or Stanground. Yaxley is on-call too and also suffers from crews not being available all the time, so it could well be Stanground that is sent with an estimated travel time of 14.8 mins.
Under our new proposal to send a crew of three in rural areas, the three local firefighters could be at the incident with the fire engine in 5 - 8 minutes (allowing for them to travel to the fire station to get the fire engine and then travel to the incident). This is 7 - 10 minutes quicker than waiting for Stanground or Yaxley.
It is important to note that we would still send back up fire engines. The benefit is that if the crew of three is able to resolve the incident, the back up crews can be sent back to their own areas quicker
What are the benefits to this change?
A fire engine at the incident in a quicker time
A quicker resolution to the incident
First aid administered quicker, potentially saving life
Crews from further away being available in their local area again quicker
This is a crewing enhancement – we will send the same fire engines we would do now as well as the crew of three. But if the other crews are not needed they can be sent back quicker.
Our on-call firefighters get to use their skills and training more which may help with retention of on-call firefighters.
Suffolk Fire and Rescue Service already send crews of three to incidents in rural areas. We share a Control with Suffolk so this will align crewing practices.
Are there any risks?
We don't believe that there are any additional risks to what our firefighters face now.
The Fire Brigade's Union is against sending crews of three as they believe it puts our firefighters at greater risk of moral pressure if there is someone trapped in a house fire and they are unable to go in until the second fire engine arrives. Whilst we acknowledge this concern, we do not believe that this is any different to other situations our firefighters face now. For example, a crew of four or five cannot enter a high rise building, such as a block of flats, until a second crew arrives. And our on-call firefighters cannot enter water to rescue someone – they have to wait until the in-water trained teams arrive. In both these scenarios someone could need rescuing.
Our firefighters are highly trained and know what is expected of them. There is still lots they can do as you've already read – getting the hoses out, locating a hydrant, hooking up the water supply, cordoning off the area to protect others, tackling the fire from the outside and being ready to go into the building as soon as the second crew arrives. All of this will save time and enable us to deal with the situation in a quicker time.
But we have also looked at the likelihood of this type of situation happening. Looking at our data, over the last 11 years, there were only two incidents in rural areas where a person needed rescuing from a building that was on fire. Yet 875 incidents over the last 11 years would have benefited from having a crew of three arrive quicker.
Conclusion and your thoughts
We really do believe this change will bring significant changes to our attendance time in rural areas. We reiterate again that a crew of three will only be used when we cannot get four or more and we will continue our recruitment campaigning to attract more people to consider a role as an on-call firefighter.
We'd now like to know what you think. The survey has six questions which we would be grateful for your thoughts on having read this document. Thank you so much for reading this and submitting your responses. 
 Complete the survey.