Waste fire - Waterbeach - South Cambs
08/09/2019 12.18AM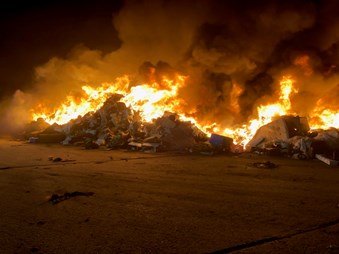 At 12.18am on Sunday (8) crews were called to a fire on Ely Road in Waterbeach.
Crews from Cambridge, Cottenham and Chatteris initially attended the incident.
Firefighters arrived to find a large, well developed fire involving household rubbish at an industrial waste processing premises. Working with staff on the site they've contained the fire and have been damping the area down and allowing it to burn out in a controlled way.
One crew will remain at the scene all day to continue to work with the onsite staff. The fire is expected to be burning for next few days.
There will be smoke coming from the scene, which may impact the A10 as well as those living in the local area. Motorists are advised to drive cautiously where they see signage around the area. Residents should keep their doors and windows closed if the smoke is impacting them.
Update - Monday September 9
Crews have been carrying out regular inspections of the fire to ensure it it burning out in a controlled way. The staff on the site are working hard to bring the fire to a conclusion. 
Inspections will continue to take place until the fire is fully extinguished.
The smoke being generated is not impacting the roads nearby. Residents nearby should continue to keep doors and windows closed if the smoke is effecting them. 
Update - Tuesday September 10
Regular inspections have continued at the site to check the progress of the fire. Following a visit on Monday night, firefighters confirmed the fire was fully out and left the scene with the on site staff.
The cause of the fire was accidental.