Shed Fire – Bassingbourn - South Cambs
30/06/2019 5.02PM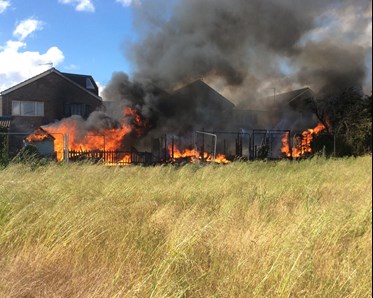 On Sunday (30) at 5.02pm five crews were called to a shed fire on Clarkes Way, Bassingbourn.
Crews attended from Cambridge, including the south roaming fire engine, Gamlingay and Royston from Hertfordshire Fire and Rescue Service.
On arrival firefighters were faced with a large fire involving multiple sheds which was starting to spread to the rear of four houses. Wearing breathing apparatus they used two jets and two hose reels to extinguish the fire, before returning to their stations by 10pm.
Station Commander Kelly, who investigated the cause of the fire praised the efforts of the crews involved, saying "The crews did a fantastic job responding to this incident. The conditions were particularly challenging. If it wasn't for the quick thinking and hard work of the firefighters, it could have been a very different outcome." 
The cause of the fire was accidental. 
BBQ Safety Tips:
Make sure barbecues are placed on level ground where they will not tip over
Keep barbecues away from your home, sheds, fences, garden furniture, trees, shrubs and tents
Don't drink too much alcohol if you are in charge of the cooking
Don't set up the barbecue in a place where people have to squeeze past it
Keep children, pets, and garden games well away from the cooking area
Never leave the barbecue unattended
Follow the safety instructions provided with disposable barbecues
Only use approved barbecue fuel or fire lighters - never use petrol or paraffin