Horse rescue - Hildersham - South Cambs
22/10/2019 3.11PM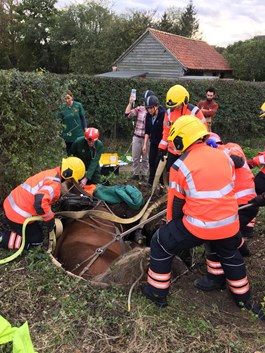 At 3.11pm on Tuesday (22) three crews from Cambridge and the South roaming fire engine were called to an incident on Cambridge Road in Hildersham.
Firefighters arrived to find a shire horse trapped in a hole in the ground. With the help of a vet and farm machinery, the crews safely released the horse using specialist rescue equipment and left it in the care of the owner.
The crews returned to their station by 6.45pm.
Update - 24/10/2019
Bill the horse suffered no serious injuries during his ordeal and is recovering well with his owners.