Fire in the open – Little Paxton - Huntingdonshire
24/04/2020 8.11PM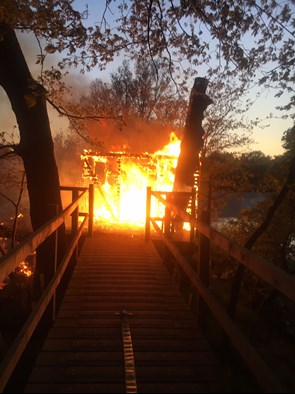 At 8.11pm on Friday (24) crews from St Neots were called to a fire at Paxton Pits Nature Reserve in Little Paxton.
Firefighters arrived to find a well developed fire involving a bird hide, trees and shrubbery. They extinguished the fire using a jet and returned to their station by 11pm.
A fire service spokesman said: "We believe the the fire was started by a BBQ that spread quickly to the surrounding tress and sadly the bird hide. These hides are able to be built thanks to generous donations, so it's a great shame this one has been lost.
"Having any kind of fire, including a BBQ, is a risk, especially in open areas because they can spread quickly, as this fire did. It is not advisable to have a BBQ in these areas, due to the uneven ground and the surrounding nature. It is also against the current government advice to be having a BBQ in an outdoor area, as people should only be out for short periods of exercise."