Flat fire - Arbury - Cambridge
10/05/2020 3.44PM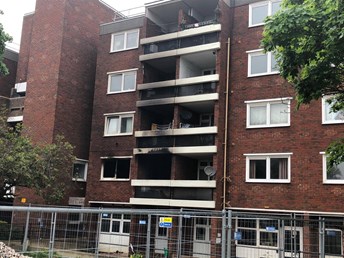 Around 40 firefighters from Cambridgeshire and Suffolk attended a flat fire in Carlton Way in Arbury, Cambridge, yesterday afternoon (May 10). Crews were faced with a severe fire to a first floor flat. Two people had escaped from the rear balcony of the flat prior to crews arriving. Firefighters rescued one person from a first floor window using a ladder and five others self-evacuated and made themselves known to ambulance crews. One of them was taken to hospital as a precaution.
The flat was severely damaged by fire and there was smoke damage to other areas of the building. Sadly a cat and a dog from another flat died from smoke inhalation despite the best efforts of crews to revive them using Smokey Paws pet oxygen equipment.
Incident commander Paul Clarke said: "This was a severe fire that has completely gutted the flat and caused smoke damage to other parts of the building. The swift actions of the first crew prevented the fire from spreading further and I also have to praise staff in our combined fire control who provided crucial advice to people in other flats to help keep them safe until crews arrived."
Paul continued: "I'd like to thank local residents for their support and also colleagues in the police, ambulance, Hart teams and local authority who worked hard with us to bring the incident to a safe conclusion and support those residents who were affected, some of whom had to be rehoused due to smoke damage to their flats or as a result of a power loss caused by the fire."
A joint fire investigation is taking place by fire and police services.
Update 12/05/2020:
The cause of the fire was deliberate. Anyone with information should contact police by visiting cambs.police.uk to submit an online report or call Crimestoppers on 0800 555111.