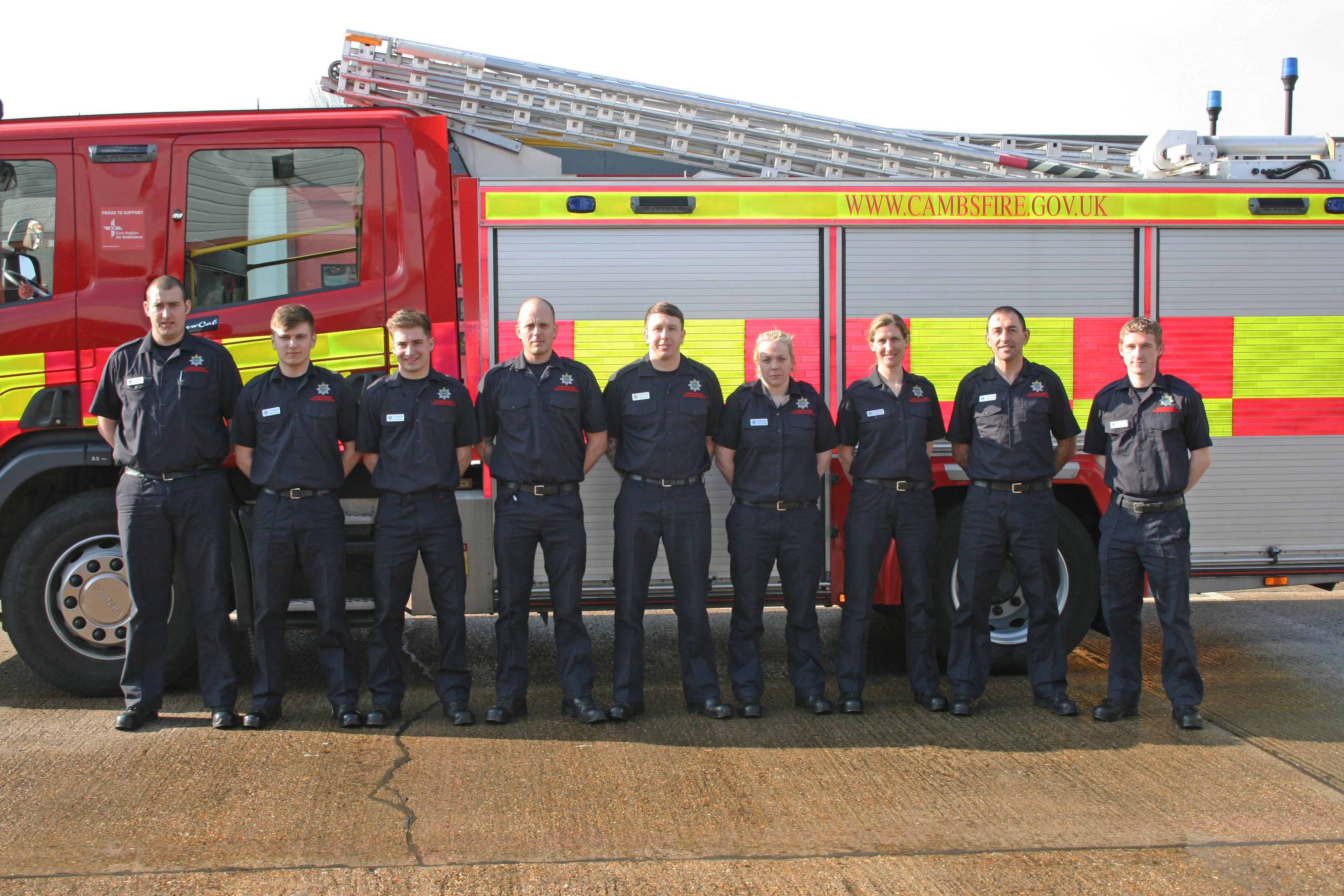 Nine new on-call firefighters will be serving the communities of Cambridgeshire after completing training.
The latest batch of on-call recruits passed out on Sunday (March 13) and will fit serving their community as a firefighter around their work and home life. 
Papworth's ranks have been bolstered with the addition of new recruit Matthew Seymour. The 25-year-old Papworth resident is a maintenance assistant in Cambridge and enjoys playing football and golf.
Two new faces will be seen riding the fire engine at Huntingdon as the crew welcomes Sam Gartside and Jason Green. Peterborough resident Sam, 19, works at Cambridgeshire Fire and Rescue Service's headquarters and will be on-call during his working day, responding to calls around his day job. Forklift driver and keen scuba diver Jason, 27, of Sapley, will also boost Huntingdon's numbers as he goes on the run.
Housewife Helen joins the crew at Ramsey. The 41-year-old is adding firefighting to her repertoire of talents, which includes photograph and craft blogging.
Fitness consultant Victoria Larham, 30, will be on-call at March and Adam Layton, 29, will become one of the crew at Yaxley.
Running and fitness enthusiast Jose Perez, 43, is now an on-call firefighter at Ely Fire Station.
Wisbech's on-call crewing numbers will be boosted with the addition of two new recruits. Painter Max Coles, 26, will respond to calls from the town's on-call station alongside electrician Luke Green, 20, who also enjoys motorsports and snowboarding.
Group Commander Gary Mitchley, head of on-call at CFRS, said: "Being an on-call firefighter is a challenging yet rewarding opportunity and we wish this group of new recruits the very best as they start their journeys here in Cambridgeshire.
"Training is tough and these individuals have shown dedication not just to the fire service but to themselves and their communities. Our emergency service relies on the commitment and continued support of on-call firefighters and their families and we would like to thank every one of them who continues to give up hours of their time to serve the community." 
The on-call firefighters are trained professionals who respond to emergencies in their communities alongside their day-to-day lives. They may be at home, work or out and about when they receive a pager alert and straight away they must jump into action and get ready to deal with any incident.
The new recruits are on-call after completing three months of training at the Service's training centre in Huntingdon.
Some new recruits have other jobs and respond to 999 emergencies while they are at work thanks to the support of local employers, who recognise the importance of allowing their staff to respond to incidents. There are also benefits to the employer and employee as on-call firefighters receive new skills and training which they may be able to use in their full time jobs as well. 
On-call firefighters have to be aged 18 and over, have a good level of all-round fitness and live or work within five minutes travelling time of an on-call fire station. 
CFRS is recruiting on-call firefighters and to find out more call 01480 444500 or log on to www.cambsfire.gov.uk.