40 years of service for Sawtry watch commander - Huntingdonshire
11/08/2016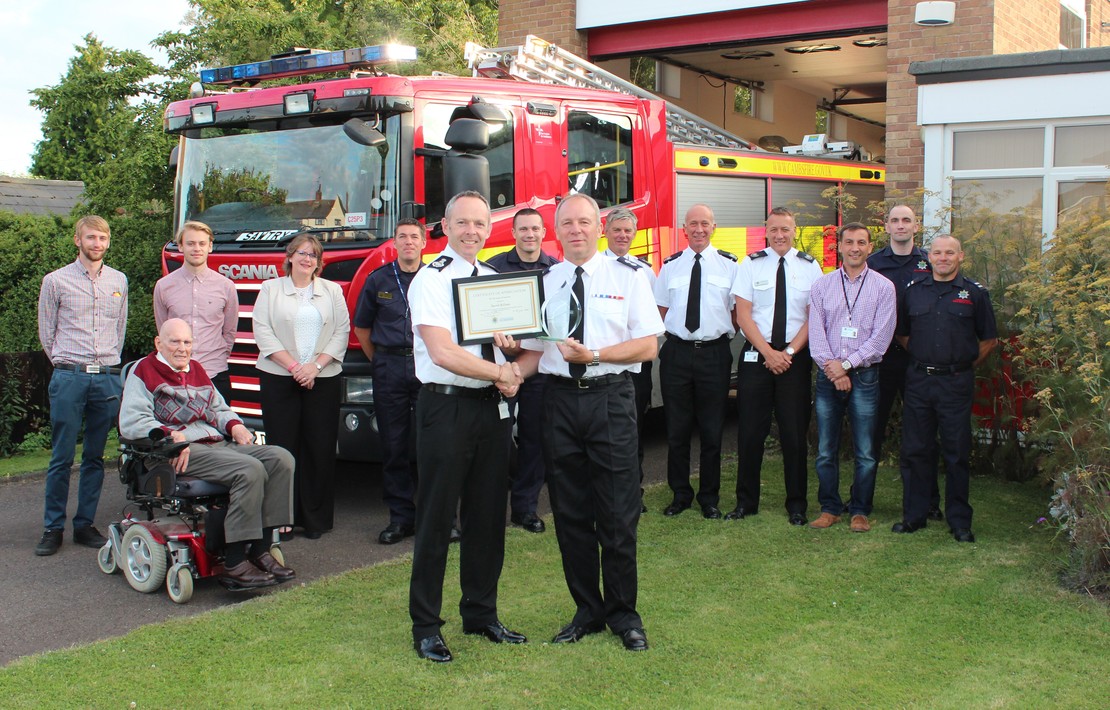 A watch commander has achieved more than 40 years' service at Cambridgeshire Fire and Rescue Service.
Father-of-two David Killner, 57, marked the occasion with family and his Sawtry on-call crew at a presentation on Tuesday evening (August 9).
He joined the service in April 1976 at the age of 17 and trained hard with the crew until he was allowed to go on the run and ride the fire engine at the age of 18. David remembers that when he joined he was issued mis-matched kit from numerous brigades that did not match – how things have moved on, he said.
David, who followed in his father Gordon's firefighting footsteps, was an apprentice at a local garage when he started, and he explained that because the firm had previously had a fire, they were generous to support his firefighting and released him from work to attend emergency calls. 
David, who currently works for Serco as a site manager, has been a watch commander for a long part of his career with the fire service and has managed a lot of people whilst also maintaining a healthy and varied career outside the fire service. 
He said: "It's been a great journey and it's a great service to be a part of. My family and I know no different. I was a firefighter when I met my wife Lisa and our two boys have grown up with the fire service in their lives.
"My proudest moment so far has to be when I represented the Service at the Remembrance Day Parade at the Cenotaph in the late 1980s."
David is the heart and soul of the community in Sawtry and continuously supports events in the village. He added: "I see it as being an important part of the service we provide to the community."
He also recalled one particular incident that stuck out in his mind when a train broke down and the crew was called. It was hot and the passengers were at risk of dehydration. He called his wife and sons and they went to the local co-op and bought all the bottled water in the shop and brought it to the incident ground for David and his crew to hand out.
Chief Fire Officer Chris Strickland presented David with a certificate and glass flame award. He added: "It is a remarkable achievement to complete 40 years as an on-call firefighter and my thanks go to David for his fantastic commitment to our Service. I would also like to thank his family as I know you cannot be an on-call firefighter without a supportive and understanding family who I am sure have had to suffer many interruptions to family time over the last 40 years so David could go and crew the fire engine when people in his local community have needed our service."