Prince's Trust programme changes lives of Fenland young people
17/08/2016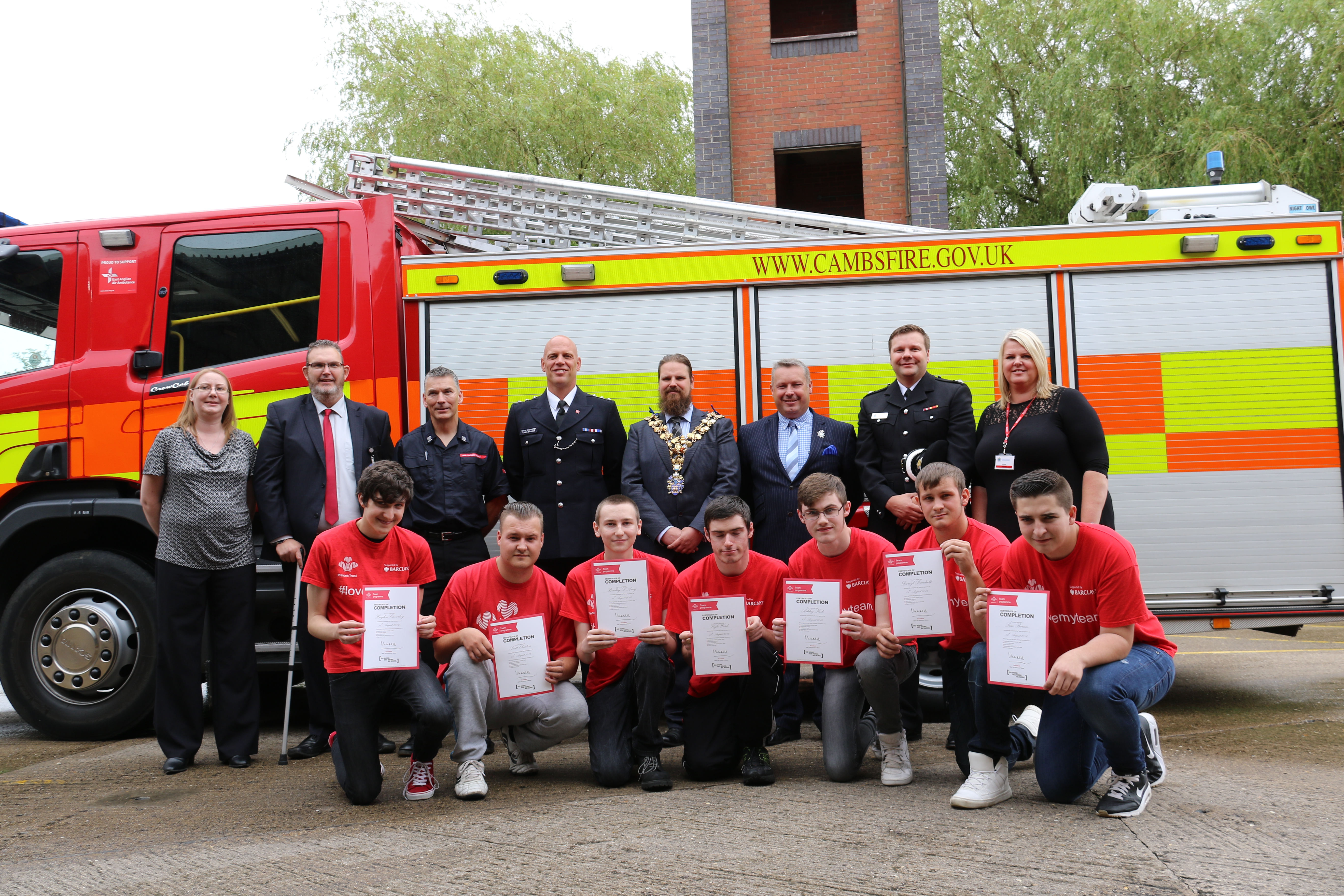 Pride was the word of the day when seven young people shared their achievement of completing the Prince's Trust Team programme.
The participants – all aged between 16 and 22 and from Fenland – completed a fire drill at Wisbech Fire Station before taking to the microphone to tell an audience about their 12-week journey.
Programme Team Leader Steve Lucas said: "The scheme has been running to help young people in Fenland for more than two years now and this successful programme is about young people developing and moving on into positive outcomes."
The Fenland initiative is run by Norfolk Fire and Rescue Service (NFRS), with partners Cambridgeshire Fire and Rescue Service, Cambridgeshire Constabulary and The College of West Anglia.
The Prince's Trust Team programme is a 12-week personal development course which aims to increase confidence, motivation and skills and as a result, enables young people to then gain employment, move into education or undertake training or an apprenticeship.
Twice a week the young people engaged with firefighters at Wisbech in drills and development exercises, which culminated in them performing an intricately planned drill at their passing out parade.
Area Commander Callum Faint, from Cambridgeshire Fire and Rescue Service and who attended the pass out presentation, added: "We are proud to be a key player in helping these young people build a better future for themselves. All the staff involved, from organisers and partners and those in the community, should be incredibly proud of how they have contributed to such a tremendously positive outcome and made a difference to these young people."
The programme saw this team raise and donate an estimated £1,200 to community projects and volunteer 1,180 hours of their time.
Participants took part in teambuilding activities, a week-long residential, a community project, work placements, careers advice and support, presentation skills and team challenges. At the end of the course students can also gain a Prince's Trust Certificate in Employment, Teamwork and Community skills and an Emergency First Aid Certificate.
The young people who took part were:
Bradley L'Amy, 18, of Wisbech
Hayden Cleverley, 16, of Upwell
Ashley Kirk, 19, of Wisbech
Sam Barnes, 18, of March
Scott Claxton, 20, of Wisbech
Kyle Ward, 18, of March
Darryl Scandrett, 22, of West Walton