Firefighters bring Christmas to homeless families in Huntingdon
22/12/2016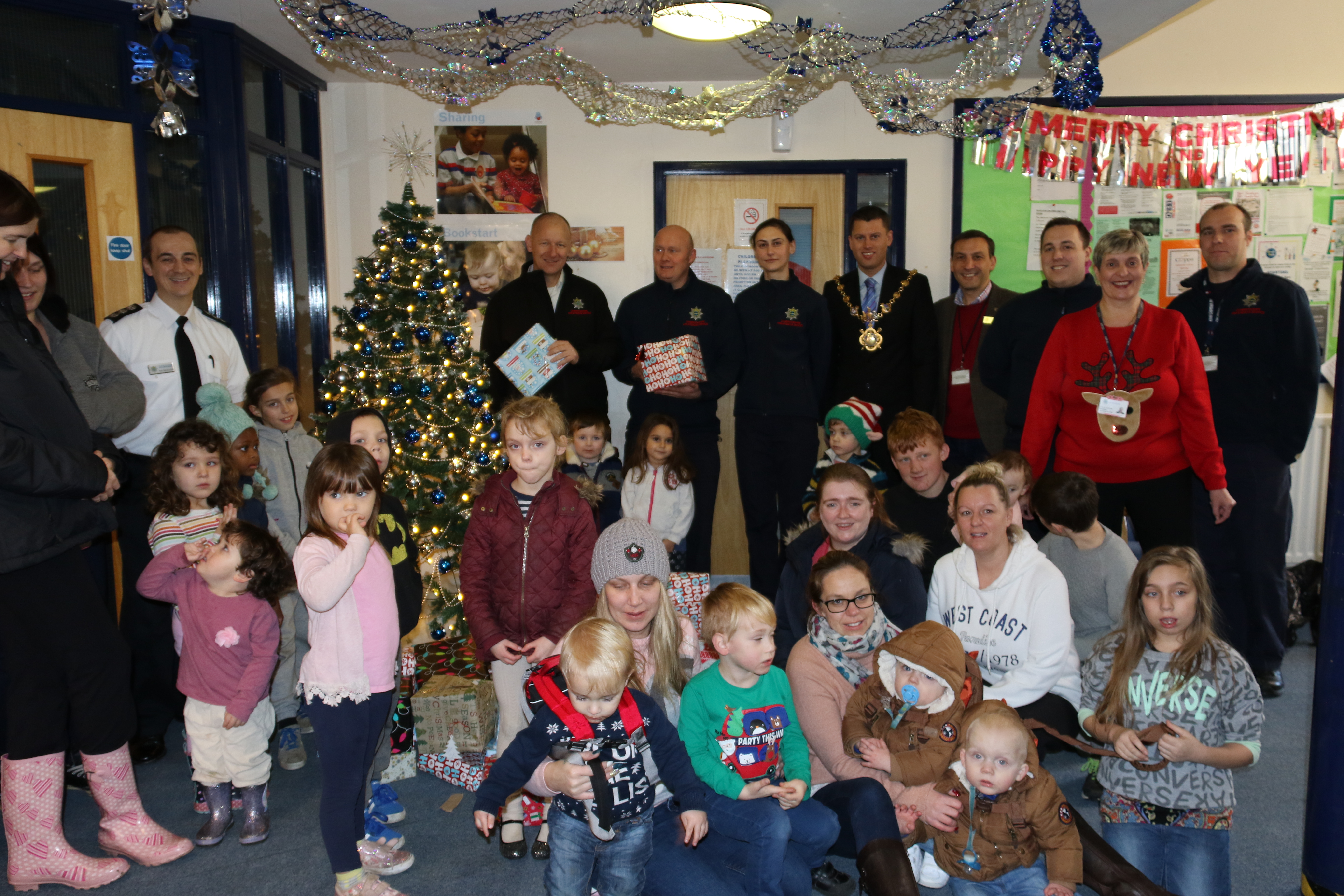 Firefighters from Huntingdon brought a smile to the faces of children at a hostel for homeless families in the town after turning up in a fire engine to deliver sacks full of Christmas presents.
Firefighters from red watch in Huntingdon arrived at Coneygear Court in a fire engine and rescue pump this morning after fundraising efforts from generous staff at Cambridgeshire Fire and Rescue Service saw £468 in cash donated along with numerous presents from both operational and office-based staff. Local organisations also donated vouchers and gifts.
Fundraising events at CFRS included a cake sale at Service headquarters in Huntingdon where generous staff donated, and bought, home-made cakes. The sale raised just over £200 and there was also a car wash for staff at Huntingdon Station. In addition to this, the Service also received a box full of toys from Wyevale Garden and Leisure Centre in Wyton; a £50 voucher from Sainsbury's; as well as a £50 donation each from Luminus, an affordable housing provider, and Metropolitan, which runs affordable housing projects across London, the East Midlands and the East of England, including Coneygear Court in Huntingdon, which provides temporary housing accommodation for homeless families.
Families at Coneygear Court spent the morning with firefighters, climbing on board the fire engine and taking lots of pictures, before opening their presents in front of the Christmas tree.
Huntingdon Mayor Daryl Brown was also there to talk to families and children as well as councillor Simon Bywater from the Fire Authority.
Fundraising efforts have been organised by Station Commander Per Middleton and Business Support Group Officer Sue Biddle, who is based at Service headquarters.
Per said: "When we went to Coneygear last year the kids there were so happy and excited to see us so we thought it would be nice to do it again but on a bigger scale. To see what all the staff from Cambridgeshire Fire and Rescue Service have done has been simply overwhelming. We've had staff donate money and presents and even help wrap presents over their lunch hour."
Steve Clymow, Manager at Coneygear Court, said: "It was brilliant. The majority of families attended this morning and the kids really enjoyed it.
"Being homeless at Christmas has a massive effect on the family as a whole and the children. Financially things are very tight for them so any presents they get are all gratefully received."
Sue added: "It's really nice to see children from families that are probably less fortunate than our own children receive presents and see their little faces. They were all very appreciative of what they received."
Praising the generosity of CFRS staff she said: "It's been amazing. I've been coming in to money and presents on my desk every day."
Huntingdon Mayor Daryl Brown said: "The crew at Huntingdon fire station do such an amazing job with their fundraising efforts, and all staff at Cambridgeshire Fire and Rescue Service. It was magical today to see the children's faces when the presents were handed out. I know how much it means to the families that are here, sometimes in quite difficult circumstances."