Stavros Flatley and Honey G recruited for fire safety messages
22/12/2016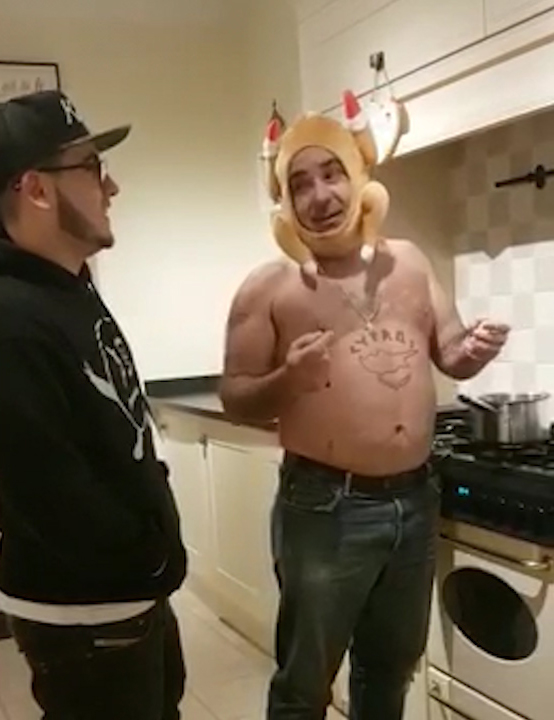 A Christmas Advent calendar promoting vital safety messages for Cambridgeshire Fire and Rescue Service is to include a special message from celebrity dance duo Stavros Flatley.
The London duo, made up of dad Demetrios Demetriou and son Lagi, found fame on ITV talent show Britain's Got Talent with their hilarious Greek Irish dancing routines.
Father and son agreed to record a special safety message for the fire service after filming a prime-time dance show with Black Watch firefighters from Cambridge, Diversity Presents Steal The Show, which is set to air on New Year's Day at 7pm.
In the 46-second video, dad Demetrios is stood at the stove, in his familiar bare-chested pose, cooking Christmas dinner. Asked by Lagi why he is wearing a stuffed turkey on his head, he says it is to remind him not to leave his turkey unattended in the oven. Lagi then opens the oven door to check on the turkey – only to reveal his dad forgot to put the turkey in the oven.
The message, although humorous, carries an important message for people not to get distracted when cooking – one of the main causes of kitchen fires.
Rapper Honey G has also recorded a safety message for the Service which is scheduled to go out on CFRS's Facebook and Twitter pages on New Year's Day.
This is the second year running that CFRS has run a Christmas advent calendar to promote different safety messages over the Yuletide period.
Favourites this year have included a song from Firefighter Graham George, known to colleagues as Lenny, who last year recorded a hilarious take of him performing an out-of-tune version of the George Michael hit, Last Christmas. Back by popular demand this year, Lenny was on Wednesday's calendar door (Wednesday 21) singing his own adaptation of East 17's 1994 Christmas number one, Stay Another Day, to remind the public to make sure they install a working smoke alarm in their home.
Despite the obvious tongue-in-cheek, however, the video promotes an important safety message, with the lyrics to the East 17 song adapted by Lenny himself.
Other original videos this year feature staff singing, a mannequin challenge from St Neots station; a Christmas Carol with Station Commander Paul Clarke dressed in Dickensian costume; a local primary school singing 'When Santa Got Stuck Up The Chimney' to remind people to get their chimneys swept and a sweet video of two boys, aged 4 and 5, reminding people not to take batteries out of their smoke alarms but buy batteries instead. Thursday's (Dec 22) door featured singing smoke alarms, beeping to the tune of We Wish You A Merry Christmas.
Hayley Douglas, Head of Media and Communications at CFRS, said: "The advent calendar has been even more popular this year with most videos getting a few thousand views each. We've covered off many safety messages and we hope that through the advent calendar we've helped spread a little festive cheer as well as help keep people safe over the festive period."