Ribbon cut at new fire station
01/03/2017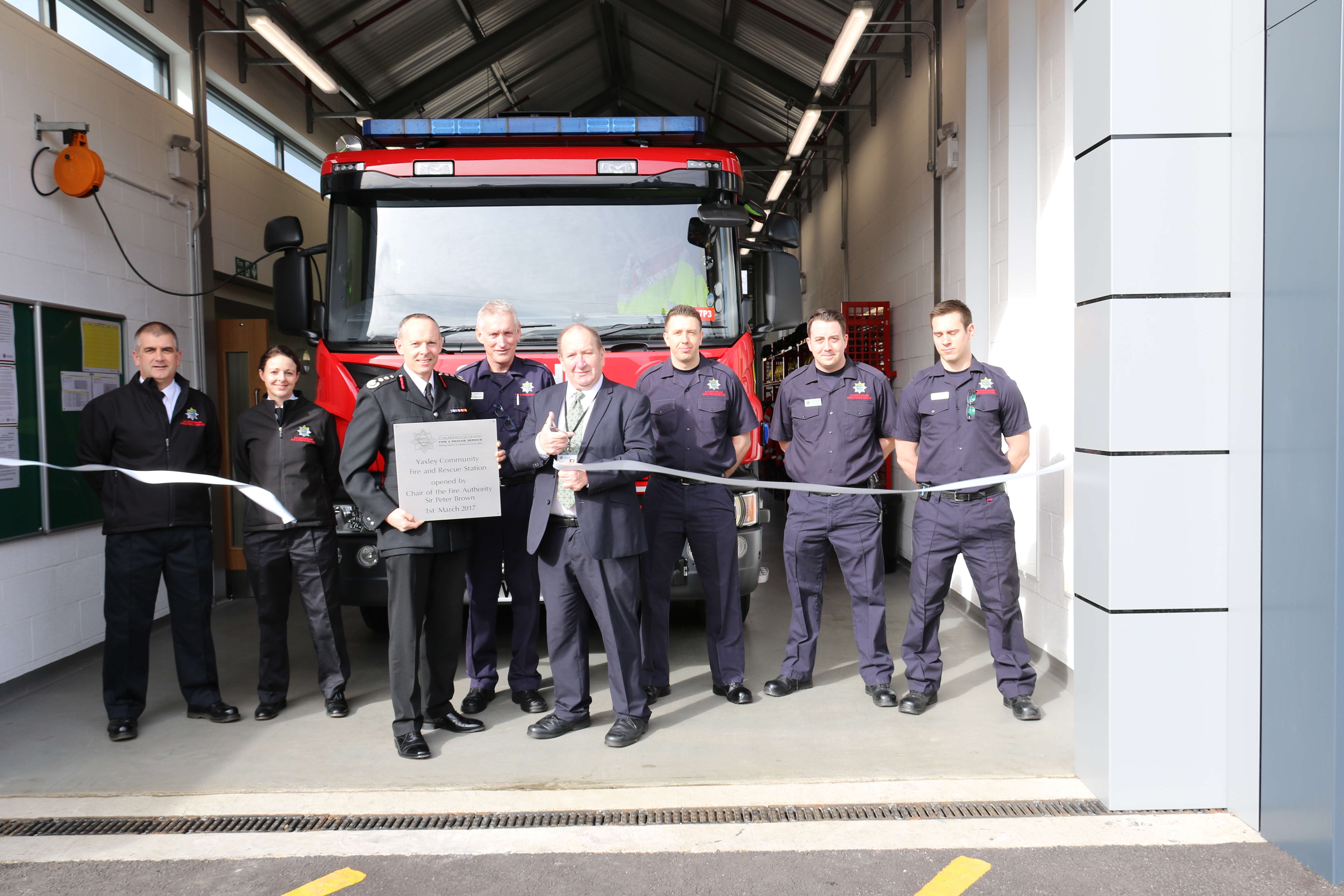 Cambridgeshire's newest on-call fire station was officially opened today.
The newly refurbished Yaxley Community Fire and Rescue Station was officially opened by the Chairman of Cambridgeshire and Peterborough Fire Authority Sir Peter Brown and Chief Fire Officer Chris Strickland.
Around 30 people, including former firefighters from the station, attended the event held today (Wednesday March 1).
Sir Peter said: "This new station is a significant improvement for the crew while also keeping the character and heritage of the old station. Firefighters can also maintain their skills on-site in a modern, purpose built training facility to harness their techniques.
"As a Service we are passionate about providing the best possible service to the residents of Cambridgeshire and Peterborough, which is why it is a real positive that we continue to invest in new equipment for operational firefighters."
Chief Fire Officer Strickland added: "We are a predominantly on-call service so investing in ensuring our crews have modern stations to work and train in is hugely important to us. This station marks the culmination of a lot of hard work and dedication from all involved.
"We rely heavily on local communities to crew our fire engines and are always looking to recruit staff to join our on-call service. With these fantastic new facilities available now is a great time for Yaxley residents to get in touch with us to find out more about becoming on-call firefighters."
Work on the 1879 conserved building began in September 2015 and took just over a year to complete and was carried out by SDC Builders Ltd. The project cost around £1.2 million.
Watch Commander John Cox said: "The project was a first for the Service because normally any new work is based around existing architectural plans. However with Yaxley an architect had to design the new part of the building based around the existing station, which is situated on a narrow site as well as built on a slope. The work blends in very nicely with what was there and retains the history of the station.
"I was delighted to be part of the project. I was involved in the development of the site from the planning and development stage, and so were staff, which makes it a very pleasurable working environment and we have now got everything we need."
The station has a lecture room, office, welfare facilities and bay with space for one fire engine, along with a new smoke house training facility that replaced the old drill tower at the back of the site.
The on-call crew from the Huntingdonshire village was moved to a site in Enterprise Court on the Eagle Business Park for a year while building work took place. They moved back to the station in October.
Watch Commander Cox added: "The new station has made a huge difference to the crew. The old station didn't have any showers so now it means we don't have to go home after a job and wake our families up at three in the morning when we have a shower."
The station is crewed by on-call firefighters who live or work in the village. To find out more about becoming an on-call firefighter at Yaxley, or any other on-call station, visit the on-call section of the CFRS website.
Local community group are able to make use of the new facilities, such as the lecture room and kitchenette by emailing bsgservicedesk@cambsfire.gov.uk.