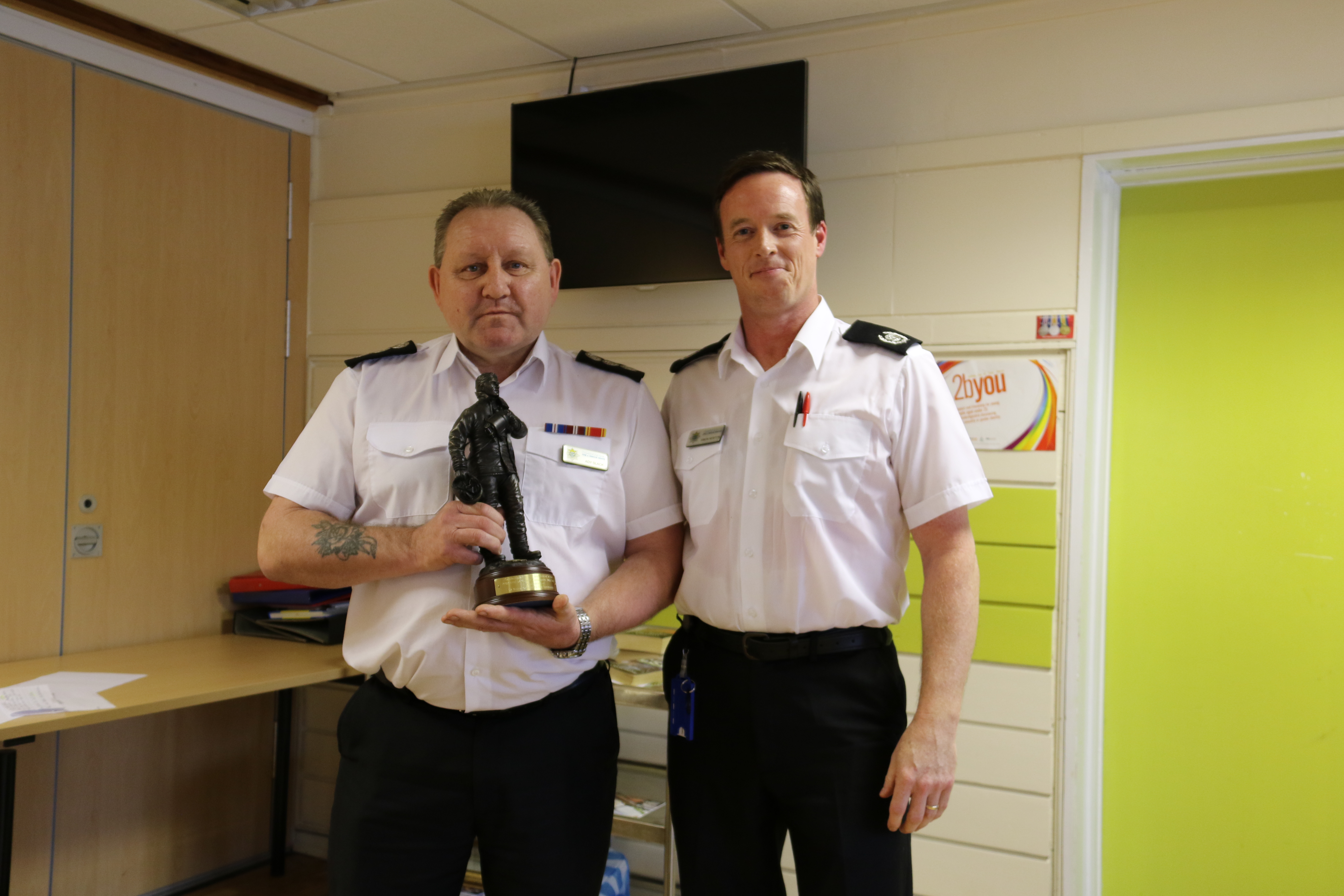 A Station Commander retiring from Cambridgeshire Fire and Rescue Service (CFRS) after more than 30 years has reflected on the huge variety of jobs he has attended over the years.
Ady Slack, from the Operational Support Group (OSG) at CFRS, said: "I've been to everything anyone could image from a bird stuck in a tree to a hamster stuck in a cavity wall, people in handcuffs, road traffic collisions, all kinds of fires, train and plane incidents and water rescues involving people and animals."
Colleagues from across the Service gathered in the mess at Service Headquarters in Huntingdon today (Wed 22nd March) to see Group Commander Simon Newton present Ady with a figurine to mark his retirement from the Service after 33 years.
Talking to a packed room, Simon said: "We are here to recognise and celebrate the commitment and time Ady has given. I am looking around the room and I am certain that when Ady started with CFRS some people weren't even born. There's also been a huge amount of commitment from his wife, Claire, and his two boys. It's a family thing because it's not something you can do without the level of support Ady's family has given."
Ady joined the Service in1984, aged 21, after spending several years as a mechanical and electrical engineer. 
He spent three years as an on-call firefighter in Whittlesey before becoming a wholetime firefighter at Cambridge Fire Station, where he was based for two years. He then moved to Huntingdon for three years, followed by a move to Dogsthorpe Fire Station where he was made a temporary crew commander for two years before being promoted to a permanent crew commander in the Training Centre, and then onto a watch commander where he spent several years specialising in training new recruits in basic firefighting skills, road traffic collisions, breathing apparatus and first aid skills.
Ady said: "I loved training centre. I think it was the fact when firefighters are new, you are taking someone who knows nothing about firefighting and by the end of it you are seeing a person become a firefighter ready to tackle incidents."
After training centre Ady returned to Dogsthorpe for two years before going back to the Training Centre as a station commander for two years as a course director. 
Next he went to Cambridge for 18 months as a station commander; before moving to Ely Station for two years before becoming a Station Commander in the operations department for the Peterborough district, then working in an on-call support post for three years.
Ady finished his career at SHQ working in his current role in the Operational Support Group. Ady's role involved operational risk procedures and site specific risk inspections on more high-level risk sites such as prisons, hospitals, Cambridge colleges and other large businesses and factories. Other roles have included working as a fire investigation officer and as a fire protection officer helping keep businesses safe. He also worked as a flexi-duty commander for 14 years which involved him taking charge of larger incidents requiring further safety measures and support to the fire crews. Whilst working in the Service he also spent six years as a first responder for the NHS, attending medical emergencies in the community of Whittlesey and surrounding areas.
Ady said: "It was always my ambition to be a firefighter. It was the excitement mainly, but also being able to help people in many ways and to have specialist skills and knowledge to do so," he said. "I joined this job to make a difference to people and that is what I hope I have achieved in the last 30 years working for CFRS."
Outside of work Ady has always been a really keen martial arts enthusiast and was involved in Judo for 35 years, representing the National GB squad in his younger days under the British Judo Council. Whilst at CFRS he was the secretary of the Sports and Welfare association and organised a group of firefighters to represent the Service at the World Firefighter Games in Sheffield in 2004 and 2008 in Liverpool, with the team returning with an impressive collection of medals, including a bronze in Judo for Ady.
Ady lives in Eastrea, near Whittlesey, and is married to wife Claire. They have two grown up sons, Ritchie and Brady.
After he retires this week he plans to spend more time clay pigeon shooting, cycling, and running his health and safety business which he has owned for the past 10 years. He is also keen to have his weekends back to spend more time with his wife and not have to attend fire-related incidents across the county, being called out at all hours night and day.
Area Commander Maurice Moore said: "I am not sure if Ady followed me around or if I followed him around but we have seen a lot of each other over 30 years in various guises. To know someone at the start of their career and still be doing work together at the end of it is quite unusual.
"Ady was, and remains, very practical.  He is a very capable individual. He is calm, considered and able to deal with all kinds of situations without a big fuss. He has worked in a number of different environments and he should be proud of his achievements and the positive impact he has had on the people he has worked with and I wish him all the best for his retirement."