Cambridgeshire Fire and Rescue Service swells its ranks with fourteen new on-call recruits
27/03/2017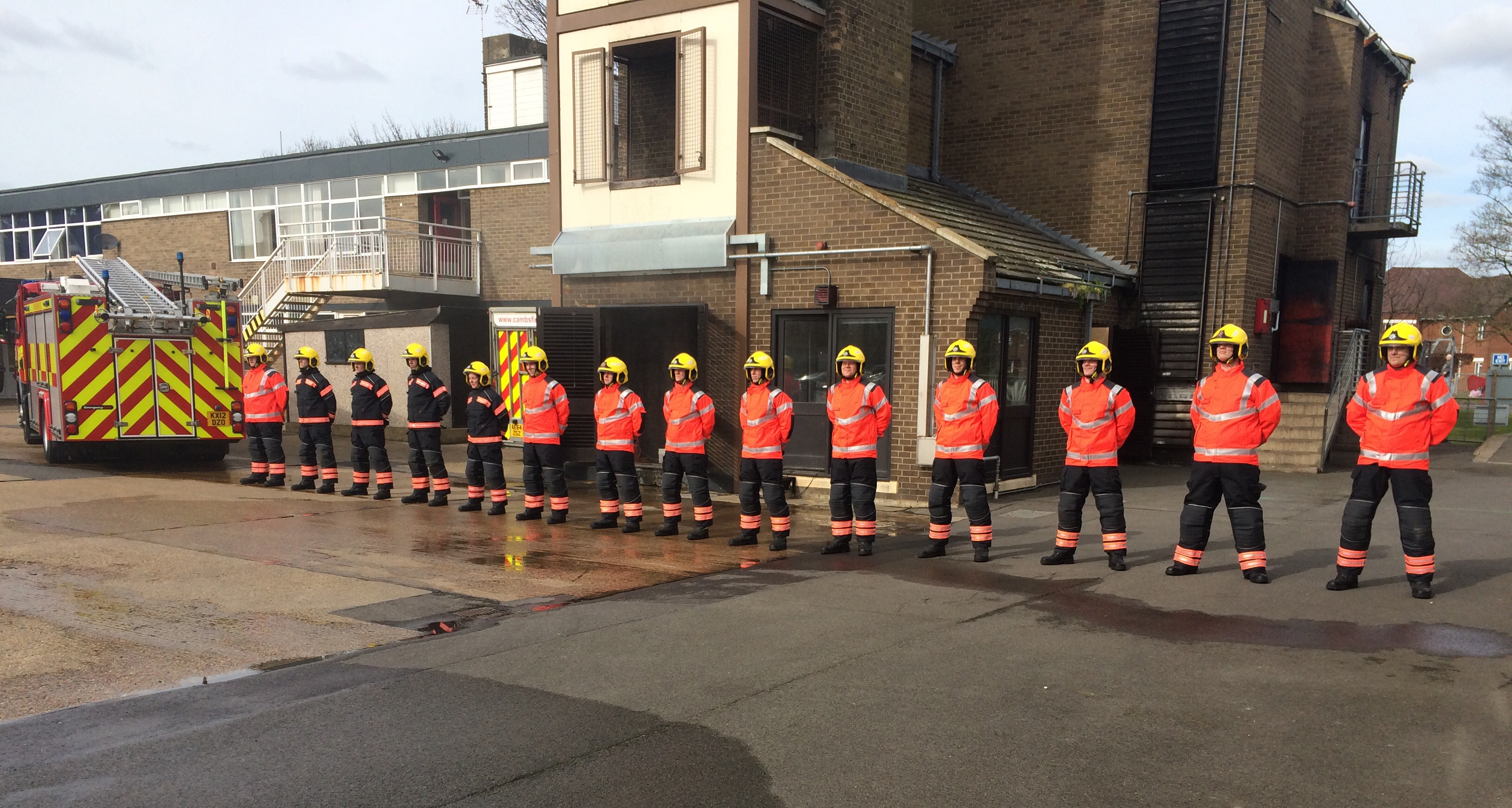 Fourteen new recruits have graduated as on-call firefighters for Cambridgeshire – the largest group in over five years.
The latest batch of on-call recruits passed out on Sunday (March 26) after three months of intense training at Cambridgeshire Fire and Rescue Service's Training Centre in Huntingdon.
All the recruits have had to fit training around their regular jobs, taking holiday to attend training sessions during the day as well as attending evening and weekend sessions.
On-call recruits are trained in exactly the same skills as their wholetime counterparts, including firefighting skills and the use of breathing apparatus.
Group Commander Simon Newton, who presented the recruits with their certificates at the pass-out parade, praised the recruits, and their families, for the dedication shown in completing the three months of training.
"It is a real privilege for me to be able to attend today's event and share the success of these new firefighters with their friends and families," he said.
"I am always humbled by the commitment and sacrifice made by our on-call staff to provide essential emergency cover to their local communities. Watching this group in action today it is difficult to believe that only three months ago they walked in off the street to start their career with Cambridgeshire Fire and Rescue Service. Equally impressive is that the skills on show are only a tiny reflection of the hard work and dedication each one of them will have shown to earn the right to pass out at today's event.   
"I would personally like to thank them and their families for the positive impact their decision to join the on-call Service will have on their communities.  They should, quite rightly, feel very proud of their achievements."
Group Commander Gary Mitchley, head of on-call at CFRS, said: "It is great to see for the first time in over five years a course with 14 on-call recruits passing out and joining their respective stations to serve their communities as on-call firefighters. They and their families should be extremely proud of what they have achieved.
"Eleven weeks ago they walked into our training centre here at Huntingdon and have worked hard over weekdays, evenings and weekends pushing themselves to learn new skills in a range of challenging environments to achieve the standards required to be able to ride a fire engine and respond to a wide range of emergencies when our public need us."
Peterborough Volunteers Fire Brigade gains two new on-call firefighters – Dayle Duguid, 29, who works as a door supervisor and in retail and David Carrington, 31, a floor fitter who lists football and golf as his hobbies. Huntingdon Fire Station's ranks have been bolstered by two new recruits: Thirty-year-old Area Manager Matt Arthur and CFRS Business Support Officer, Josh Muir, also 30. Joining Sawtry on-call is 33-year-old Caroline Dixon, a mum-of-two and midday co-ordinator at a junior school who lists reading, music and fitness as her hobbies.
St Ives Fire Station gains drivers mate Tom Dockerill, 27, who lists sport and travelling as his hobbies. Ely Fire Station gains two new on-call firefighters, Paul Hudson, 31, a furniture manufacturer who likes fitness and football coaching and Nick Lake, 41, a Services Project Manager who outside of work enjoys watersports, camping and outdoor activities. Gamlingay Fire Station gains Will Stevens, 26, a Production Engineer who likes gaming, sports and spending time with family.
Aaron Dunmore, 20, a floor screeder who enjoys football, the gym and greyhound racing joins Whittlesey Fire Station whilst Chatteris Fire Station gains Steve White, a 24-year-old Scientist who likes outdoor activities and motorsports. St Neots Fire Station gains 38-year-old Neil Roberts, a builder who enjoys golf and martial arts. Electrical Services Manager Chris Cornell, 43, joins Cottenham Fire Station and finally, Chef Mark Minns, 26, joins Manea Fire Station.
On-call firefighters are trained professionals who respond to emergencies in their communities alongside their day-to-day lives. They may be at home, work or out and about when they receive a pager alert calling them to an incident. Some new recruits have other jobs and respond to 999 emergencies while they are at work thanks to the support of local employers, who recognise the importance of allowing their staff to respond to incidents. There are also benefits to the employer and employee as on-call firefighters receive new skills and training which they may be able to use in their full time jobs as well.
On-call firefighters have to be aged 18 and over, have a good level of all-round fitness and live or work within five minutes travelling time of an on-call fire station.
GC Mitchley said: "We have 24 stations across the county that are on-call and we are always looking for the right people to be part of a great team so if you feel being an on-call fireighter is for you check out out on-call careers page here."