Father figure at Gamlingay fire station retires after 40 years
13/04/2017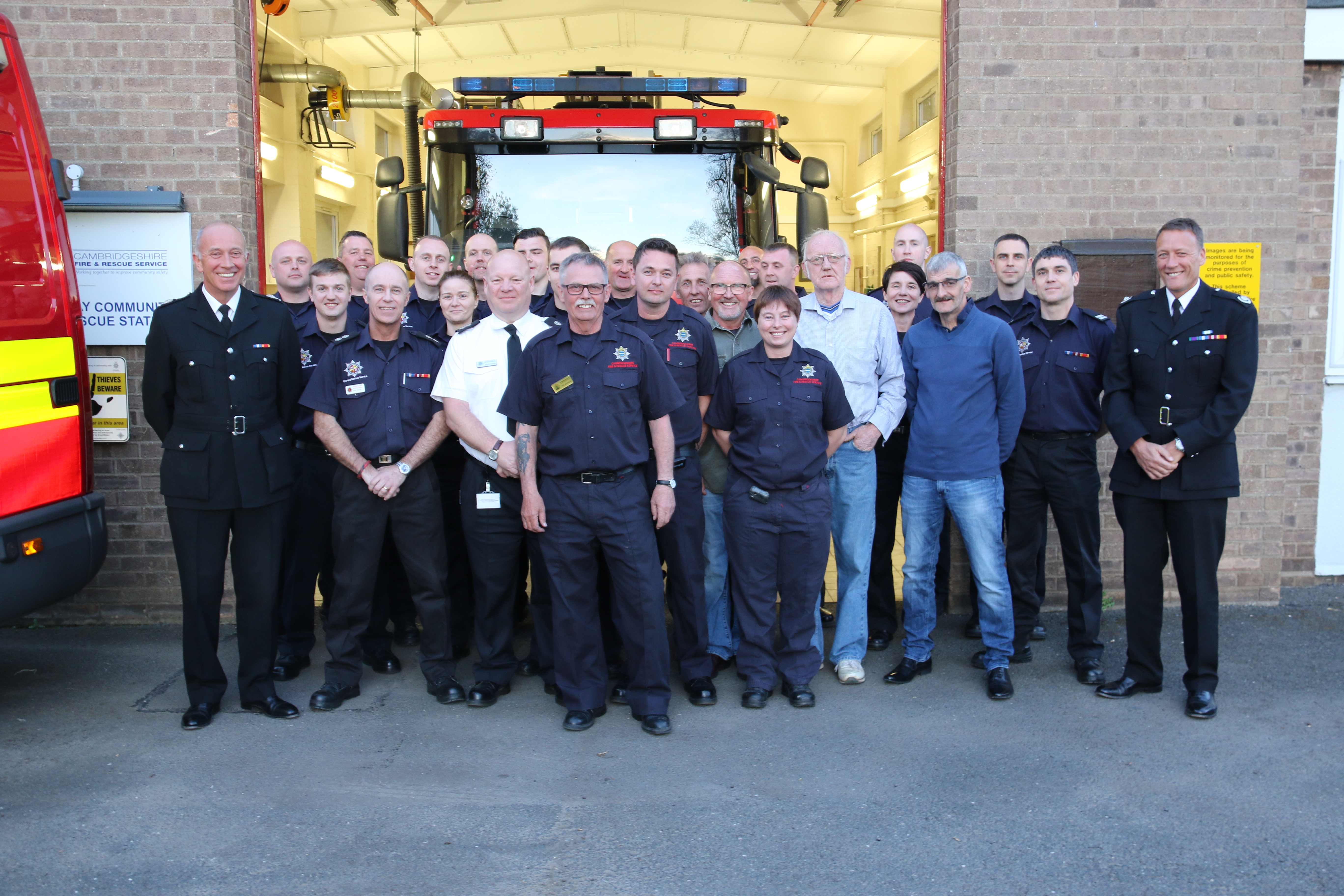 An on-call firefighter referred to affectionately by colleagues as 'dad' has retired after 40 years' service at Gamlingay Fire Station.
Roy Nicholas, 65, joined Cambridgeshire Fire and Rescue Service (CFRS) aged 25 and since then has provided a 100 per cent on-call cover, day and night.
Colleagues past and present gathered at Gamlingay Fire Station during drill night this week to give Roy a special send-off.
Area Commander Maurice Moore , presented Roy with a special flame award to mark his 40 years with the Service and Group Commander Gary Mitchley, head of on-call, presented Roy with a figurine to mark his retirement.
Roy, of Blythe Way in Gamlingay, said it had been a big thing for him to retire.
"I got a bit emotional on the evening because the boys and girls down there are brilliant. I am the oldest person there but also the youngest because I am always joking.
"It was a big decision for me to retire because I have a lot of friends at the station and I have seen a lot of people come and go and a lot of the youngsters call me dad!"
Roy left school aged 16 and worked on the land for seven years before becoming a guillotine operator at an engineering firm that made screw conveyers, finishing as a metal works manager before moving to a firm that manufactured water tanks and grain silos, which he retired from in October last year (2016).
He became an on-call firefighter early on in his career, aged 25.
 "I am the sort of person who can't sit about the whole time doing nothing and I just felt having the fire service has kept me going and on top of that I have really enjoyed helping people in distress."
Roy said his memories will be about all the fun he has had with his colleagues and being part of a team. Over the years he has gone to a wide range of jobs – everything from road traffic collisions to house fires and a dog stuck up a tree.
The father of four and grandfather to seven, who is married to wife Marjory, plans to spend his retirement playing more golf and is marking his retirement with a trip to Thailand with two of his friends.
Group Commander Gary Mitchley said: "It's a fantastic commitment to give 40 years worth of service to the community of Cambridgeshire and the people of Gamlingay.
"I have known Roy 15 years and he has always been a constant professional. He always gives 100 per cent and has put as much effort in from the day I have known him to the day he has retired and it has been a real honour and privilege to serve with him."
On-call firefighters are not based at the fire station. They carry a pager and respond to emergency incidents as and when they happen. They receive an annual wage to reflect the time they commit to being available plus additional payments for attending incidents and drill nights (one evening a week for two hours). They are men and women who may have other jobs and are able to provide evening, daytime or weekend cover.
Anyone wishing to find out more about becoming an on-call firefighter should visit the Cambridgeshire Fire and Rescue Service website here.