Wisbech Rotary Club funds another 100 smoke alarms for vulnerable residents in the community
13/04/2017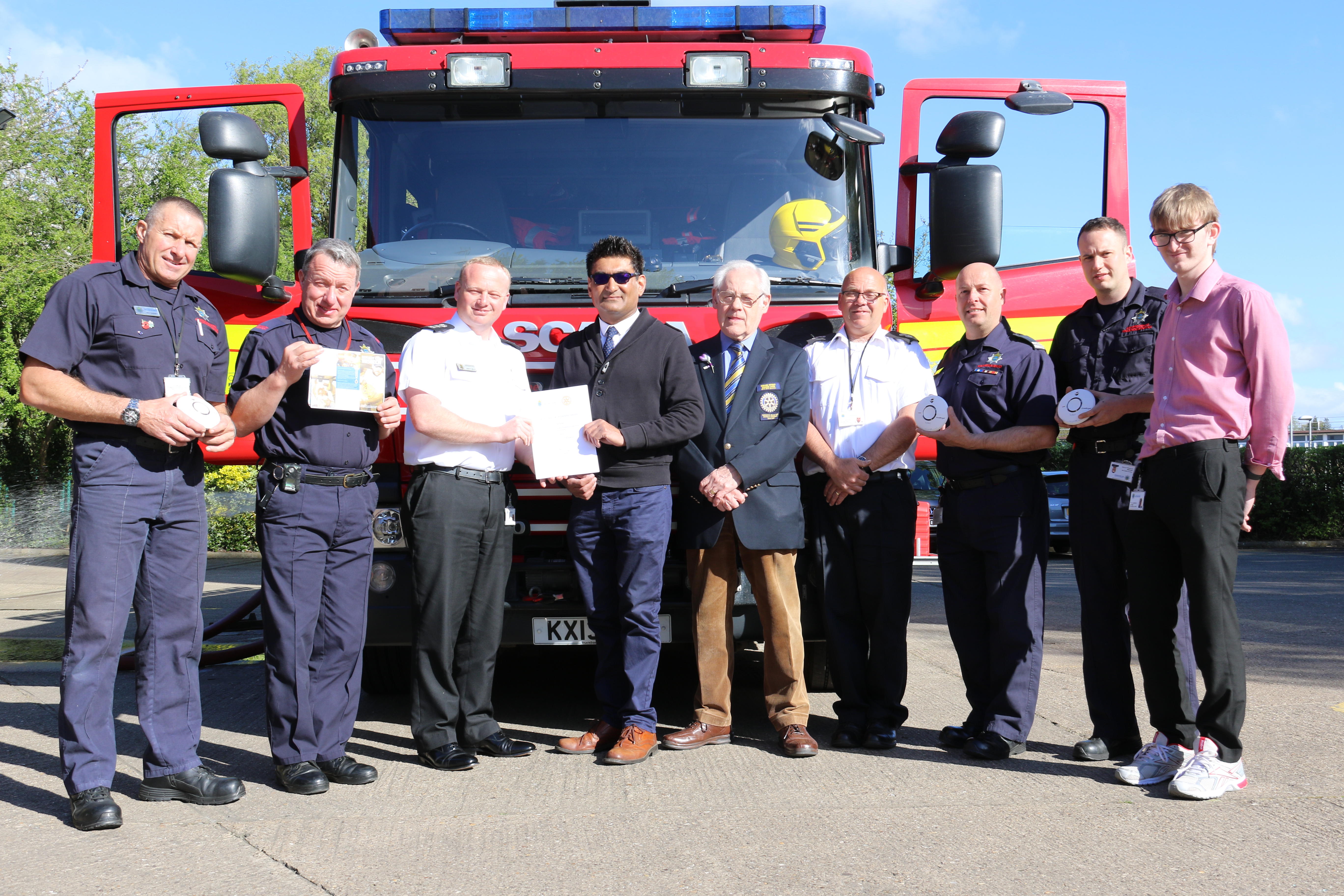 A cash donation from Wisbech Rotary Club (RCoW) is to fund another 100 smoke alarms for vulnerable adults living in Wisbech.
Cambridgeshire Fire and Rescue Service (CFRS) first teamed up with Wisbech Rotary Club in 2015 after the club pledged to donate money to fund smoke alarms for vulnerable residents living in Wisbech and surrounding villages.
Since the partnership began three years ago, RCoW has donated just over £700 a year, providing enough funding for 100 smoke alarms each time.
A cheque for £732 was presented by the President of RCoW, Valerie Smith, to Station Commander Brett Mills, followed by a review of the agreement between the two organisations regarding future funding.
The fire service is not allocated a budget by the Government to purchase smoke alarms, so funding from organisations such as the Rotary Club enables CFRS to reallocate funding to other services for the vulnerable.
Station Commander Mills, from Wisbech Fire Station, said: "It's a fantastic partnership that Wisbech Rotary Club are willing to support. Their donations help protect the safety of vulnerable members in the local community and means we have more money to work in other areas to help make Cambridgeshire a safer county."
Past President Daljit Roy said: "This partnership, which was launched in 2015 between the two organisations, shows an even greater commitment to the safety and wellbeing of our local vulnerable residents.
"We are very happy to be working with CFRS to help us deliver this small lifesaving device to those most in need."
The partnership between CFRS and Wisbech Rotary Club is the first of its kind in Cambridgeshire and it is hoped other Rotary Clubs in other parts of the county will follow suit.