Come and play! Cambridgeshire Fire and Rescue Service launches new interactive resource for young people
01/03/2018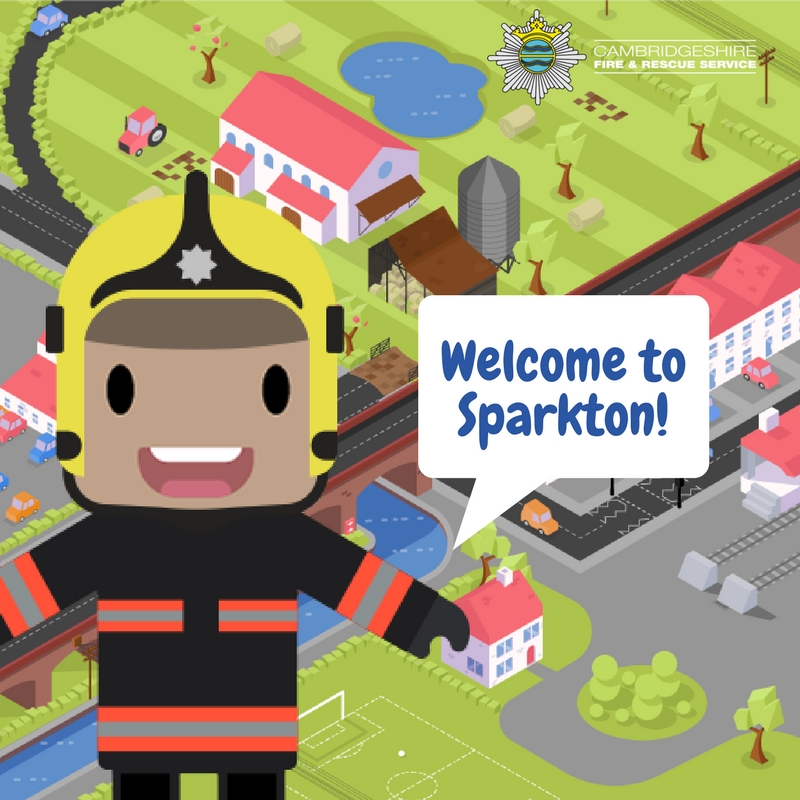 Cambridgeshire Fire and Rescue Service (CFRS) has launched a new interactive online learning site to promote fire and road safety to young
people across the county.
Developed by Matmi, Sparkton is an online town that children can explore, play games and learn safety tips. From quizzes to spot the hazards, to testing road safety knowledge, there's lots to see and do.
The new initiative has been developed through a collaboration with a number of other fire services in England and Wales, including Cheshire, Leicestershire and Nottingham, where it has already proved popular.
The educational game is targeted at children aged seven to 11 in Key Stage Two and can be accessed from home or at school, across all different devices and platforms. It has been designed to help the next generation learn about fire and road safety in safe environment.
Head of Communication for CFRS, Hayley Douglas said: "Keeping people safe from fire and other emergencies is fundamental to everything that we do, and engaging young people is a big part of that. We already work with young people in schools and through our Firebreak courses, so this new online resource is a great addition for us.
"Sparkton is a fun resource that will educate young people on the importance of fire and road safety and how to keep themselves safe now and in the future. It's also a great way for them to learn more about the fire service, and what we do in the community.
"By working with Matmi and in collaboration with a number of other fire services, Sparkton provided excellent value for money and has the potential to develop and make new content."
Lead Designer for Matmi, Matt Powell, also added:
"Sparkton is the exciting result of our dream to unify the disparate resources available to children, creating a harmonious township full of engaging games and activities. The town is modular and expandable to include localised resources and features with dynamic features which change throughout the year. It's a privilege to be able to design and develop for the health and wellbeing of future generations."
You can start playing on Sparkton at: http://www.cambsfire.gov.uk/games/sparkton/