Ely crews strike lucky with training venue
28/03/2018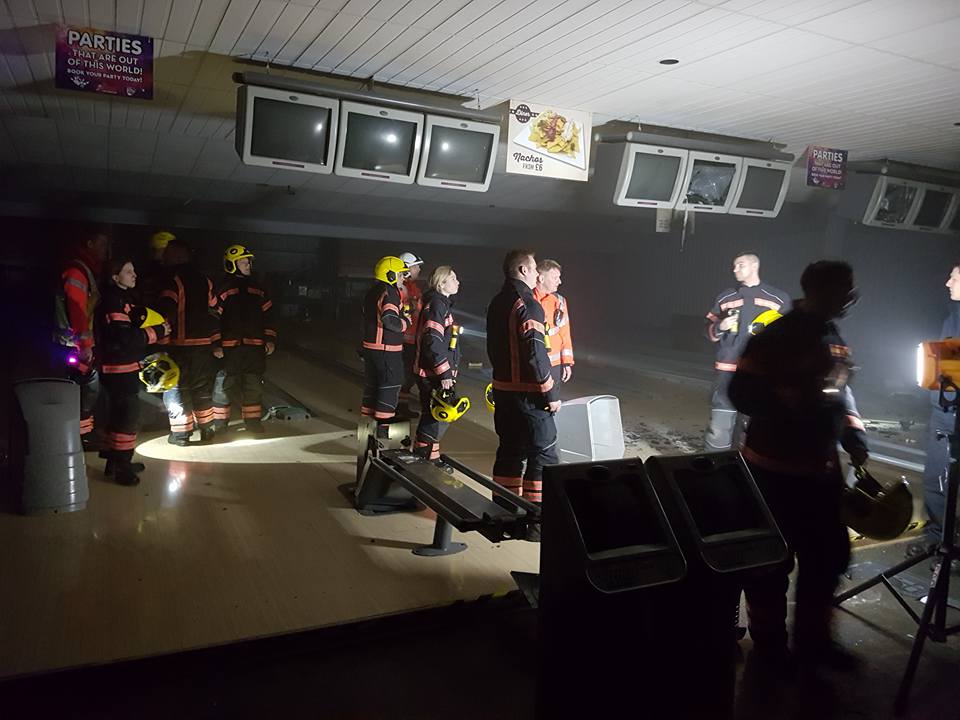 Firefighters at Ely and the surrounding area have been enjoying a training venue with a difference thanks to Cambridgeshire County Council.
The empty Strikes building next to Tesco has been disused for many months while it awaits refurbishment and a change of use. Firefighters at Ely contacted the county council to seek permission to use the building for some training exercises while it wasn't in use.
After getting the go ahead, crews have been using the building to practice essential skills such as wearing breathing apparatus, building search and following guide ropes.
The training culminated in a large exercise on Monday evening involving crews from Ely, Littleport and Soham. The scenario was a fire in the kitchen and seven missing casualties.
Firefighter Chris Parker, who made contact with the council to secure the venue for training, said: "Regular training is an essential part of our role and it's great to be able to use real buildings as opposed to our own training facilities on stations which can become very familiar.
"This building has been fantastic. It has so many components – there are obstacles, many different rooms, different risks and a brilliant soft play area where we've tested searching for casualties in confined spaces and narrow walkways."
Ely Station Commander Paul Oliver added: "The crews have gained so much from having the loan of this venue and we are incredibly grateful to the county council for allowing us to have that opportunity."
Richard Panter, Facilities Contracts manager at Cambridgeshire County Council, said: "We were more than happy for the fire service to make use of the building before it is refurbished and becomes the Cambridgeshire Archives.
"We understand the importance of training for firefighters and were delighted we could help add a different dimension to their normal training. We were also pleased to be invited along to the exercise on Monday and see first-hand how the building has been utilised by crews and learn more about the tactics they use."
The fire service is always grateful for any business or organisation that can allow firefighters to train on their premises. Anyone who has a venue that can be used can contact the fire service using the 'contact us' section of the website www.cambsfire.gov.uk.