Over £91,000 raised for The Fire Fighters Charity
12/07/2019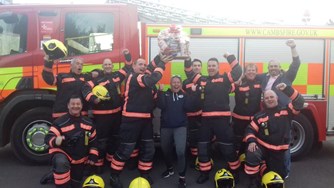 An incredible £91,000 was raised for The Fire Fighters Charity in Cambridgeshire during last year, thanks to the hard work of colleagues and the generosity of the public.
Colleagues and volunteers across the county with the support of the local communities took part in events and activities to raise money for the national charity that supports UK fire service personnel and their families.
From events alone, over £33,000 was raised throughout the year. This included car washes, open days, an annual bingo night and a fire and steam show, as well as Christmas sleigh rides and a fire engine pull.
As well as through events, an impressive £20,000 was raised from the recycled clothing banks at stations and locations in the community across the county.
The donations will be used by the charity to offer support services to the fire service community around the country, in areas of heath, wellbeing, advice information, family and child programmes, nursing, recuperation and more.
Chief Fire Officer, Chris Strickland said: "A huge thank you to the public who have supported our fundraising events or put bags of clothing into the recycling banks on our fire stations. We are so grateful for the support and generosity of the public and it is very much appreciated.
"I'd also like to thank our staff and supporters who have organised fundraising activities during the year and the people that have given up their time to help them. All of the support makes a massive difference to the charity, which does some great work supporting fire service staff and their families, from our own service and others across the country.
"We're looking forward to more fantastic events and fundraising activities this year and now have our sights set on raising over £100,000 during 2019/20!"
There are lots of ways to support The Fire Fighters Charity, from taking your vehicles to the car washes, to donating clothing to the charity textile recycling banks, to taking on personal challenges. You can find out more about the charity by visiting https://www.firefighterscharity.org.uk. 

Keep any eye out on our social media accounts for updates on upcoming charity events that you can get involved with.