Cambridgeshire firefighters buzzing to help community initiative
04/10/2019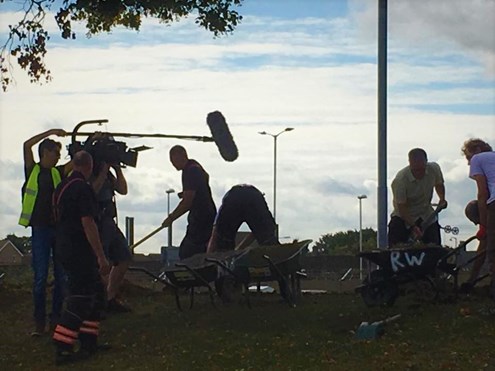 Peterborough firefighters were buzzing to help a local project to enhance the environment for bees.
Last week (Monday September 23) firefighters from Green Watch at Dogsthorpe Fire Station attended an environmental initiative called Jimmy's Bee's at the newly built Connect Park in Millfield, Peterborough.
The crew joined volunteers from the community to dig the grass up, sew and plant wildflower seeds in order to create a fantastic haven for bees.
The project was commissioned by Channel 4 due to the third of Britain's bee species declining since 1980. Planting the wildflower seeds allows bees and other insects to pollinate.
Station Commander Matt Murdoch, the officer in charge of Dogsthorpe Fire Station, said:
"A key part of being a firefighter is to be an active part of the local community. This allows us to ensure we are reaching the most vulnerable people to help keep them safe."
"Projects like this are a great way for our crews to pitch in and help the community, as well as make useful links and build relationships with local residents."