Papworth Trust signs PAS agreement with Cambridgeshire Fire and Rescue Service
16/01/2020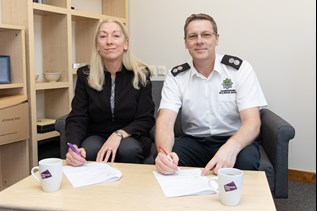 Cambridgeshire Fire and Rescue Service (CFRS) is pleased to announce it has entered into a partnership with Papworth Trust as part of the Primary Authority scheme (PAS). The partnership means that CFRS will support Papworth Trust on all fire safety matters across their premises in East Anglia.
Papworth Trust is a leading disability charity that support thousands of people, their families and carers every year. They provide a range of high quality services for disabled and disadvantaged people and have a range of locations across the eastern region. The new PAS partnership means that Papworth Trust will receive reliable and consistent regulatory advice in relation to fire safety, through a single point of contact for fire safety advice and regulation. Up until now, fire safety for Papworth Trust has been enforced by a number of fire and rescue services in East Anglia.
The Primary Authority Scheme was launched in 2015 and is open to any business, charity or other organisation that is regulated by two or more fire and rescue services under the Regulatory Reform (Fire Safety) Order, 2005. Primary Authority Partnerships are proving to be a great success and Papworth Trust is now one of five PAS partnerships held with CFRS.
Watch Commander Wayne Pringle, PAS Manager commented:
"We're delighted to have Papworth Trust on board as a PAS partner, and it's great to see how much they see the value in the scheme, and the benefits to their business and those they support.
"We've been working closely together for a number of months, so it's great to see the partnership come to fruition. During this time we've invested time in understanding their work and how we can help, meeting their teams and carrying our safety audits to ensure we're able to provide the very best service and advice to the charity."
"We look forward to working closely together on fire safety related matters."
Sarah Miller, chief executive of Papworth Trust, said: "We are delighted to be working closely with Cambridgeshire Fire and Rescue as part of the Primary Authority Scheme. Bringing all our fire safety requirements together across our different centres will ensure a high quality service for our staff and customers alike."
To speak to one of our Fire Protection team and find out more about the benefits of joining a primary authority scheme, please contact fireprotectionpolicy@cambsfire.gov.uk.