Firefighters supporting residents in Cambridgeshire
15/05/2020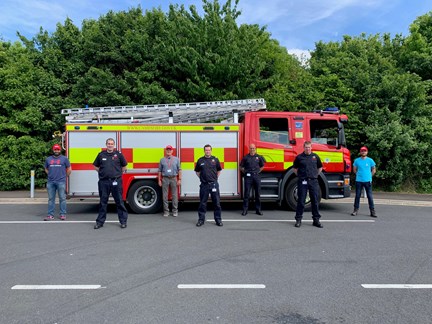 Firefighters in Cambridgeshire are supporting local residents by carrying out welfare checks on those who are most vulnerable in the community.
Crews are supporting the county wide community coordination hub by visiting those vulnerable residents that are shielding in their homes, to check on their welfare and to see if they need any support. On-call firefighters from across the county have been carrying out the visits throughout the week in and around Cambridge.
Group Commander Karl Bowden, Cambridgeshire Fire and Rescue Service's lead for the Community Hub and head of the on-call area of the Service, commented:
"I'm immensely proud of our team for the way they've stepped up and adapted to new ways of working, while going above and beyond to help those in need.
"As a service we're very much ready to respond to emergencies, but it's really important we help to protect those who are most vulnerable in our community. As well as visiting vulnerable residents, we are also providing support to our partners. We've seconded staff to the ambulance service to drive ambulances, as well as giving emergency blue light driver training.
"Our staff have also been raising money and giving donations to local good causes. An on-call firefighter from Cottenham raised over £2000 for new personal protective equipment at Arthur Rank Hospital in Cambridge, and Dogsthorpe fire station donated over £1,000 to Sue Ryder Thorpe Hall Hospice. A number of hand creams have also been donated to colleagues and local healthcare workers. It's acts of kindness like these that bring the community together and give a much needed boost to those in need."