Service confirms chief officer appointment
26/06/2020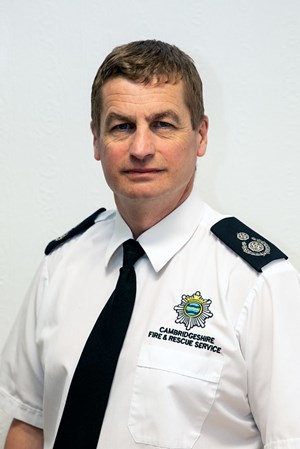 Members of the Cambridgeshire and Peterborough Fire Authority have today approved the appointment of an assistant chief fire officer.
Jon Anderson was confirmed by members at a meeting on Thursday (25) after being recommended for the role following a two-day selection process.
Chairman of the authority, Councillor Kevin Reynolds, said: "We are delighted to confirm Jon in the role and offer our congratulations after a challenging process. Jon has showed his passion and drive for the Service and will be a great asset to the chief officer team."
ACFO Anderson, who has held the role on a temporary basis for the last year, will now continue in the position as the Service looks to the future and recovery from the recent pandemic. Joining the Service in 2014 as a group commander, Jon previously spent more than 20 years with Essex County Fire and Rescue Service. His responsibilities there included head of protection, along with being the lead officer for hazardous materials and environmental protection. He has also held roles in training, operational assurance as well taking charge of wholetime and on-call stations.
Jon said: "I am very proud to take on this role and look forward to the challenges it will bring. We are an ambitious service and have a lot of plans for the coming years around some key activities, which I am looking forward to working with staff on delivering."
Chief Fire Officer Chris Strickland added: "Jon has already proved himself to be a very capable addition to the chief officer group in the past year and excelled himself in the recruitment process. I am pleased to welcome Jon as a permanent part of the leadership team."