Queen's award for chief fire officer
31/12/2020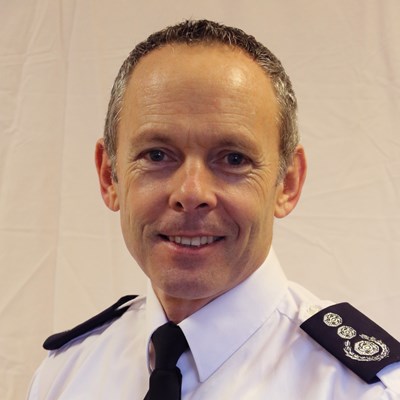 Cambridgeshire's fire chief has been recognised by Her Majesty The Queen in her New Year Honours List.
Chief Fire Officer Chris Strickland has been awarded the Queen's Fire Service Medal for his distinguished service.
Chairman of the Cambridgeshire and Peterborough Fire Authority, Councillor Kevin Reynolds, said: "I am delighted that Chris has received this honour. Chris has provided outstanding leadership throughout his career in Cambridgeshire, which has been particularly prevalent during the pandemic. This has certainly been a contributing factor in us being recognised as one of the top performing services in the country."
Chris said: "I am truly honoured to be receiving this award from Her Majesty. I never thought when I began my career that I would be recognised in this way.
"Being in the fire service is such a rewarding career in itself. I've been lucky enough to work with some great people who have helped me along the way. One thing that has always stayed with me is how different each day is, whether a firefighter on a watch, a station commander or chief fire officer, no day is the same. This year has certainly shown that. I thought I had encountered most things, then I found myself in the midst of a global pandemic trying to keep an emergency service operational.
"I wouldn't have even been considered for this honour without the help and support of the great team I work with at Cambridgeshire Fire and Rescue Service. I will receive the medal on their behalf and wear it with great pride."
Chris began his career in Hertfordshire Fire and Service in 1983 at the age of 18. He worked at some of the busiest stations in the county, including Garston (Watford), Hemel Hempstead and Stevenage. Notably, he was involved in the operational response to the Buncefield Oil Depot explosion as part of the incident command team.
Moving to Cambridgeshire in 2007 Chris arrived to be Assistant Chief Fire Officer and was quickly promoted to Deputy Chief Fire Officer. Chris was appointed as Chief Fire Officer in 2016.
Since becoming chief, Chris has led Cambridgeshire Fire and Rescue Service into being one of the country's top performing services. Her Majesty's Inspectorate of Constabularies and Fire and Rescue Services (HMICFRS) confirmed following a 2018 inspection that Cambridgeshire was among the top four services in the country. Chris has also been a leading figure in the National Fire Chief's Council, chairing several committees, as well as being the chair of the Cambridgeshire and Peterborough Local Resilience Forum.