Celebrated fire officer retires after 30 years' service
20/07/2020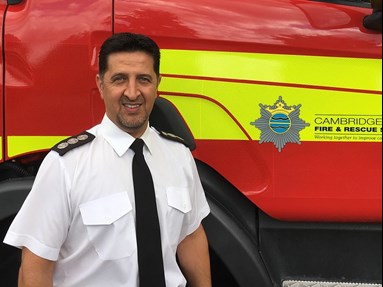 A community driven fire officer has retired after a 30 year career of serving the people of Cambridgeshire.
Station Commander Farsh Raoufi MBE leaves his role in Cambridgeshire Fire and Rescue Service's (CFRS) prevention team where he was a community risk manager based in Peterborough. Farsh was also heavily involved in the Service's recruitment activity, always looking to encourage applicants from diverse backgrounds to consider a career as a firefighter.
In 2019 Farsh was recognised by Her Majesty The Queen in the New Years Honours list for services to the community, especially in relation to equality and inclusion, both in his role with CFRS and as a volunteer.
Farsh held many roles during his 30 year career with the Service. Many current operational staff would have been trained and mentored by him during his time as a training centre instructor. Farsh also managed Ely Fire Station and was a supervisory officer for the Peterborough Volunteers Fire Brigade.
Farsh said: "I have truly loved and enjoyed every minute of my career with the Service. I have been privileged to work with some great, dedicated people who I have learned so much from. I'm very proud to have been able to serve the community and, hopefully, have made a difference."
Along with his operational duties, Farsh has played a key role in promoting the understanding of Islam to staff as well as being an active member of the Service's Equality and Inclusion Network. This has involved ensuring proper evaluation of fire risk in the communities and securing appropriate personal protective equipment and uniform for female operational staff. He has supported pride and LGBT groups within the Service and advocated transparency of promotion and transfer processes, including mixed recruitment and selection panels, which has helped to build an inclusive and diverse workforce. He was also recognised as a Champion of Equality and Diversity by the Asian Fire Service Association.
Chief Fire Officer Chris Strickland said: "Not only is Farsh an excellent fire officer, but his work in the community really sets him apart. Whatever challenge he faces, Farsh tackles it with enthusiasm and commits to bringing people together to get the best outcome. I know he will be greatly missed by everyone, but I also know he will continue to find ways to give back to the community."