Call handlers take over fire service Twitter
20/10/2020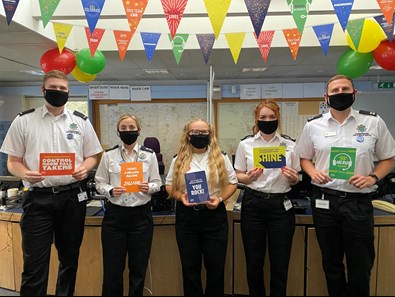 Emergency call handlers will be the focus of a Twitter takeover this week as Cambridgeshire Fire and Rescue Service celebrates International Control Room Week.
Blue Watch will be in duty from 8am until 5pm on Wednesday (October 21) and posting tweets throughout the shift on the Service's @cambsfrs Twitter account.
Area Commander Simon Newton, in charge of the Service's emergency response, said: "Our Emergency call handlers are a vital part of our organisation, being the reassuring voices heard by our residents when they are most in need. They provide potentially life-saving advice over the phone and ensure the closest fire engines are sent to the emergency, while maintaining emergency cover for the rest of the county.
"Not only do our control room staff take calls and send fire engines and officers to emergencies in Cambridgeshire, they also provide an emergency mobilising service to residents in Suffolk, having been the countries first Combined Fire Control when launched nine years ago."
Since the global COVID-19 pandemic, call handlers in the control room have taken more than 10,000 calls from residents across Cambridgeshire and Suffolk. These have ranged from emergency calls to fire safety queries to providing reassurance to the public and businesses. In Cambridgeshire, our control colleagues sent officers and fire engines to more than 7,000 incidents, including those that were false alarms.
Area Commander Newton added: "While our control staff are often the first point of contact with the fire Service the essential part they play often goes unseen. Being part of International Control Room Week allows us to shine a light on the work they do and thank them for their dedication and hard work, both throughout the pandemic and beyond. It would be great to see the public interact with Blue Watch on Wednesday and use the opportunity to find out more about our heroes in headsets."
Follow the Twitter takeover by searching for @cambsfrs.