Fire service raises more than £7,500 for charity from car washes
30/10/2020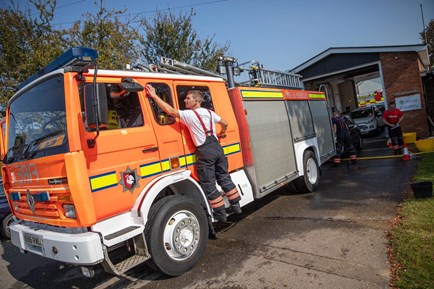 More than £7,500 has been raised by Cambridgeshire firefighters from car wash events during autumn.
Firefighters from stations around the county dug out their sponges and buckets and welcomed people with all manner of vehicles, from cars and vans to retired fire engines to raise money for the charity. Despite the pandemic and a rainy October, the community came out in force to show their support.
Car washes took place in the places listed below raising the following amounts for The Fire Fighters Charity:
Saturday 20 September
Sutton fire station – £768
Saturday 3 October
Stanground fire station - £1,774
Saturday 10 October
St Neots fire station - £862
Sunday 18 October
Huntingdon fire station - £1,400
Saturday 24 October
St Ives fire station - £800
Chatteris fire station - £825
Soham fire station - £1,086
Crews were also supported by a number of local businesses during their events.
In total, £7,515 was raised for The Fire Fighters Charity to help them continue providing support to the fire service community.
For more than 75 years the charity has given support and rehabilitation help to serving and retired members of fire and rescue staff and their families.
Station Commander Kevin Turner, the Service's Charity Coordinator, said:
"I'd like to say a big thank you to everyone that has supported our events this autumn. This is a fantastic total to raise and we continue to be amazed by the generosity of the public and local businesses when we host these events. It really is very much appreciated.
"The support from the car washes makes a massive difference to the charity, which has been hit hard by the pandemic. They do some great work supporting fire service staff and their families, from our own service and others across the country. The charity relies solely on donations so the support given at the car washes by everyone is very welcome."


Laura Challis, Community, Corporate and Events Fundraiser for The Fire Fighters Charity, added: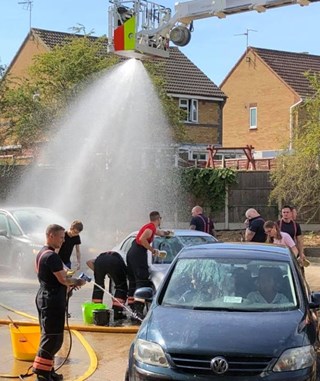 "Thank you so much to the crews in Cambridgeshire Fire and Rescue Service for raising funds for our beneficiaries and to the local communities for their very generous donations. 
"The Charity have struggled to raise funds this year due to the pandemic, so everyone's support is needed now more than ever. With the Charity raising around £200,000 less a month nationally since March, this having an impact on the services we're able to offer. 
"The funds raised will support fire service personnel and their families when they need it most, enabling us to be there for them as they are always there for us at the worst of times.  We provide mental, physical and social support and your donations literally change people's lives for the better.  Because of you, we're able to help people like Roger  -https://www.firefighterscharity.org.uk/case_study/roger"

There are lots of ways to support The Fire Fighters Charity, from taking your vehicles to the car washes, to donating clothing to the charity textile recycling banks, to taking on personal challenges. You can find out more about the charity by visiting https://www.firefighterscharity.org.uk.
Keep any eye out on our social media accounts for updates on upcoming charity events that you can get involved with.