Dunkirk heirloom found by Stanground Red Watch
08/02/2023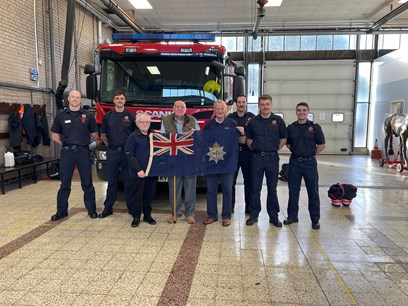 A historic link to the Battle of Dunkirk was found after a collection of fire service items was given to Stanground Fire Station.
The collection, a lifetime of family firefighting memorabilia, was donated by Gordon Townsend-Dance. His father, Charles, amassed the collection over many years as he and the family served for many years.
Going through the collection, Firefighter Christian Theobald from Stanground Red Watch, discovered a National Fire Service flag. Delving deeper into the history he discovered the flag was one of only two made, after the original flag was flown during the Dunkirk rescue operation by the Massey Shaw Fireboat. The original being used to assist wounded soldiers. 
Representatives from the Massey Shaw Education Trust and the Fire Heritage Fund, along with Gordon, were invited by Stanground Red Watch to visit the station and to pass on the historic collection, including the flag, which will be proudly displayed.
Firefighter Theobald said: "We wanted to ensure that this historic collection was looked after and cared for, as it represents many lifetimes of firefighting and a legacy for Gordon's family. Going through the various artifacts there was so much history that we were keen to preserve.
"Looking back through the history and finding the connection to the Massey Shaw Fireboat allowed us to link everything together. We so pleased the collection will be well looked after and that people will get to enjoy it."