Structure
The Service is run by a chief fire officer who is also the chief executive of the Service. The chief fire officer is supported by a deputy chief executive and an assistant chief fire officer, who form the chief officers group.
Each chief officer is responsible for a number of departments and functions and is supported by a management structure from across the organisation.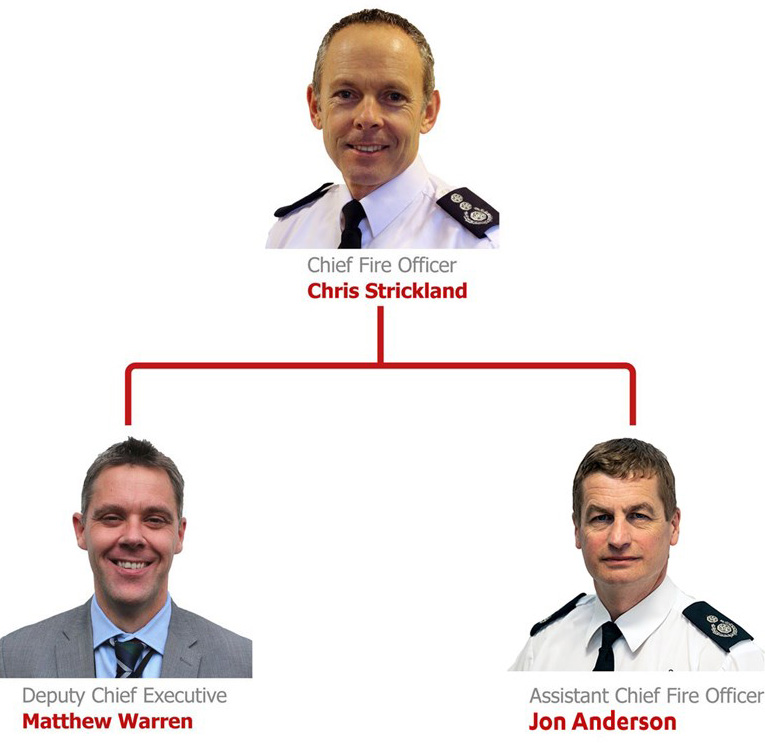 The current chief officer group is:
Chief Fire Officer Chris Strickland, responsible for ensuring the Service performs all of its statutory duties, along with:
Transparency, Media and Communication
Democratic and Legal Services. 
Deputy Chief Executive Matthew Warren, who is treasurer to the Fire Authority and responsible for:
HR, Learning and Development, Recruitment and Equality and Inclusion
Programme Management and Planning, Business Intelligence and Performance and STEP transformation
Finance, Property and estate management and Payroll
Procurement and contract management and Business Support
ICT.
Assistant Chief Fire Officer Jon Anderson, who is responsible for:
Operational Response (wholetime and on-call) including Combined Fire Control
Community Fire Safety (prevention and protection) and Resilience
Resource Management and Occupational Health
Operational Support, Equipment, Policies and Procedures, Training and Fleet
Safeguarding.